https://virtualresidency.p-10.ru/
In October I started an online Residency at VIRTUAL SPAR, St. Petersburg Art Residency. I'm currently writing a series of essays about my work during 2020.
Drawing is a direct and radical medium: The line clearly decides between the substantial matters and insignificant elements. You can't step back behind the drawn line. Reduced to black and white physical and immaterial things, allegorical and real matters, are perceived in a simultaneous way within the entity of a drawing. The white space of the paper both develops and swallows its protagonists – it is both a space of relief and a dystopic place.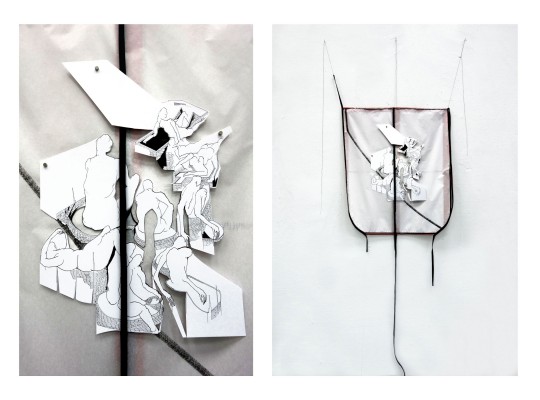 I started the series of objects in winter and recurred to it this year in spring. These works have accompanied me during the whole year until now, as the series is not finished yet. Creating the objects through sewing and needlework is the meditative part of the work, working on the drawing is both a conceptual, intentional and an intuitive process. The line reflects itself during this process.
The works consist of rests of kimono fabrics which I bought in Tokyo during a residency stay last year. I seamed the fabric rests with ribbons of different color, covered the front with semitransparent Japanese paper and added a cutout drawing, which I fixed with magnets. The impression of the works shifts between the appearance of banners, tapestry and objects with a ritual connotation, which cannot be specified.
The objects are settled in between different cultural traditions and in between different media.
On the images you can see some of these objects from both sides and the way I started to install them in my studio.
They are placed like banners or tapestry on black and red aluminum sticks which allows the beholder to see them from both sides.
The body of work is connected to an installation I made at 500 m museum in Sapporo for the exhibition "Sister City Brother Project Sapporo Munich".
The exhibition showed works by five artists from Munich. The photos shows the installation in one of the exhibition spaces: A 12 meters wide showcase situation in public space. The installation shows a tableau of 69 drawings which are placed in three rows. They consist of three series of drawings forming a rhythm between figurative and abstract parts. From far away the installation reminds of the notation for a piece of music, composed for three instruments or voices.
All works: 42 x 30 cm, ink on paper, partially cutouts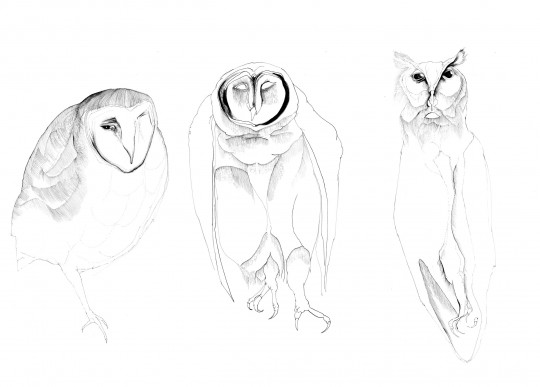 1: Series of about 20 drawings consisting of two layers, which are fixed with a small distance between each other and to the wall. Some of the compositions are completely abstract. Some others have an abstract layer on the top and a figurative layer underneath which can be never be seen in total but only in a fragmented way. Because of the distance you see some slight shadows on the layer underneath that occur from the cutout  parts.
2: Series of drawings derived from ephemeral everyday life experiences and constellations which are isolated and combined to a new scene mixed with fragments of cultural and art historic quotes. These scenes show constellations between figures and objects, stage-like settings or nonlinear narrative structures.
3: Series of 30 drawings showing different kinds of owls. The owls become anthropomorphic through the way they are abstracted from their original appearance.